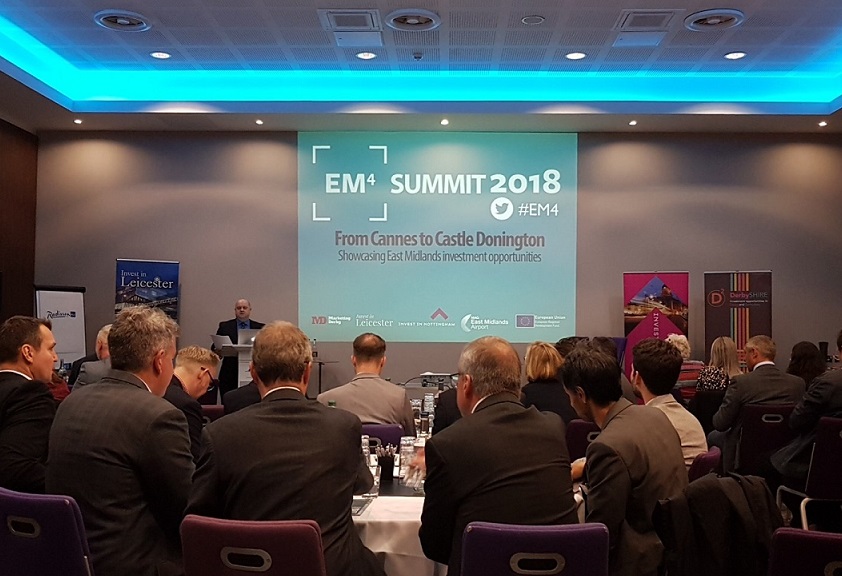 The Midlands economy is in its strongest position yet to help reshape the new relationship with the EU and wider world, with the East Midlands poised to play a vital role. This was the message at the EM4 Summit, held at East Midlands Airport, which gave attendees the opportunity to hear the region's strong economic narrative.
Home to more than 10 million people and 440,000 large and small businesses, the Midlands as a whole has more than £11bn in investment opportunities on offer. The East Midlands economy alone is worth over £100bn, the fastest growing outside London, and with a population of 4.7m, with a favourable number of both skilled workers and large businesses the region is set to prosper.
Invest in Leicester, Marketing Derby, Invest in Nottingham and other public and private sector businesses joined forces to represent their cities and counties to sell the narrative at this year's MIPIM. EM4 guests heard about the success of the event, with the East Midlands an active part of the Midlands UK Pavilion which welcomed more than 4,700 visitors, a 57% increase on 2017.
The keynote presentation at EM4 was from leading national think-tank, Centre for Cities on why the East Midlands has such a strong offer for domestic and overseas investors. Other speakers included global property and construction consultants Gleeds, Henry Boot Developments and Rolls-Royce.
John Forkin, Managing Director of Marketing Derby said: "It is fantastic that the East Midlands work together to showcase the offerings within our region. Derby's activity at MIPIM included over 100 meetings and a sell-out Embassy which resulted in a record number of leads."
Phil Coyne, Strategic Director of City Development & Neighbourhoods at Leicester City Council, said: "As we prepare for a post Brexit landscape, the manner in which we co-ordinate our inward investment offer to compete on a more global basis becomes increasingly important, and we are delighted to be working with our neighbouring authorities to explore how we finesse this approach both to the East Midlands and as part of the wider Midlands Engine."
Brendan Moffett, Chief Executive of Marketing NG added: "The East Midlands needs to build on its individual and collective strengths to sell itself effectively. We know in Nottingham the cost of living is hugely competitive to other Core Cities for example and likewise the city's £1bn 'Southern Gateway' regeneration is generating interest from the public and private sector."
The event is part of the "Invest in D2N2" project, which is part-funded by the European Regional Development Fund (ERDF) as part of the European Structural and Investment Growth programme 2014-2020.
The project will bring new businesses and investment to the D2N2 Local Enterprise Partnership area (Derby, Derbyshire, Nottingham, Nottinghamshire), by raising the profile of the area as a business location of choice.
Article taken from www.investinnottingham